Class Information
Class Level: All levels
Age Requirements: 18 and older
Average Class Size: 12
What you'll learn in this improv class:
The Monday and Tuesday night class focuses on Improv as a tool for people to learn to trust their instincts, be spontaneous and make strong choices.

These are great classes for people who want to learn how to improvise and access their creativity.
Refund & Cancellation Policy
Non-refundable
Teacher: Bill Applebaum
See Classes Taught by This Teacher »
Chicago Second City alum Bill Applebaum teaches these on-going classes. He trained and performed on stage with the founders of the modern movement including Del Close, Paul Sills, Sheldon Patinkin, Bernie Sahlins, Jo Forsberg and Fred Kaz. His approach to teaching improv reflects those he learned from which states: "Improv is not an end unto itself, but a means to being a stronger and more creative actor." Bill Applebaum's extensive improv background has helped him book dozens of commercials, numerous guest starring roles and starring roles on sitcoms and episodic TV, professional stage and film roles plus TV writing gigs.
Price Guarantee
We promise that our prices are the same (or less) than prices on the school's website
Comprehensive
We centralize over 40,000 classes from vetted, high quality class providers
Verified Student Reviews
CourseHorse is the only place where you can read class reviews from verified students
Incredible Service
We're dedicated to supporting your learning goals every step of the way
Fast & Secure Checkout
Single-page checkout and powerful encryption make CourseHorse the place to book
We give you back 5% of every class purchase, to encourage you to keep on learning!
Start Dates (9)
Teacher:
Bill Applebaum
Schedule:
Mon, Sep 22 7:30pm - 10:30pm

Location:
North Hollywood, 10707 Magnolia Blvd
Btwn Denny & Cartwright Avenues
North Hollywood, California 91601
Map
Can't make these dates? Save to Wish List this class to find out first about new class dates.
Map
Questions about this class?
Get help now from a knowledgeable expert!
School: Actor's Improv Studio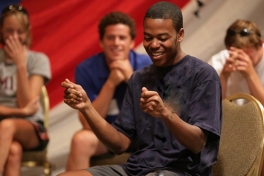 Casting Directors and Agents want people who can improvise. Why? People who can improvise are more open, creative, relaxed and spontaneous. At Actors Improv Studio, we help actors learn to improvise and improvisers learn to act!
Of course you could spend a lot of money to attend one of the big named...
Read more about Actor's Improv Studio »
| | |
| --- | --- |
| CourseHorse Approved School | This school has been carefully vetted by CourseHorse and is a verified LA educator. |
Reviews of Classes at
Actor's Improv Studio
(
2
Reviews)
Ready to take this class?
Book Online
Or call 212-729-4088
Taking this class for work? Get exclusive perks & discounts for free.